Android Application Development
---
Our Expertise in Android applications development
Satisnet are experts in Android applications development and provide services worldwide. Our Android Developers have complete understanding of the Android SDK and Framework APIs as well as authoritative knowledge of Java programming language.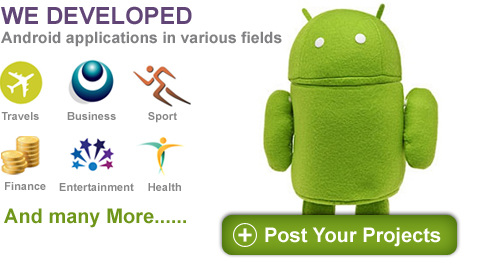 Why Satisnet For android application development services?
Experience Development Team

Highly Skilled and experience Development team of
Android Developers

Lowest Budget

Provide Android application Marketing services in
lowest budget

Latest Technologies

Implement latest technologies version of
android

High Quality Application

Develop fully high quality
android applications

Development Solutions

Cost-effective, scalable and flexible development
solutions

Creative Designers

Creative/Excellent User Interface
Designers
---
Android is an open source Linux-based operating system that primarily designed for touch screen mobile devices. It is one of the most powerful and popular platform for developing robust smart phone applications.
Professional Android Application Development Services offers by Satisnet technologies, based on world-wide client requirements. We offers Blue tooth, Edge, 3G, Wi-Fi and GPS supported Android Applications. We have expertise in various version of Android like..
Android Jelly Bean application development
Android Ice Cream Sandwich application development
Android gingerbread application development
Android Honey comb application development
We cover following services in android application Development.
Social Networking apps
Android Business Application Development
Facebook Android Apps
Social Networking Applications
2D / 3D Entertainment applications
Travel, Lifestyle and Sports app
Interactive Education apps
Health, Fitness and Medical app
Multimedia Android Apps
Satisnet provides all kind of android application development services at affordable rates. Contact Us to know about more our Android application development service.